Menlo Park
Menlo Park is an affluent city located on the eastern edge of San Mateo County situated on the San Francisco Peninsula.
Much of Menlo Park's economy centers around the companies on Sand Hill Road consisting of venture capital, private equity, financial services and law firms. Menlo Park is also located near Stanford University, Stanford Shopping Center, Stanford Linear Accelerator and is home to the headquarters of Facebook, and Instagram. In addition, some major employers in Menlo Park include: SRI International, Intuit, the U.S. Geological Survey, Pacific Biosciences and E*TRADE Financial Corporation.
This vibrant city of charming, tree-lined neighborhoods and friendly people is also known for its excellent public school system and nearby private schools, giving this city the reputation of being one of the most educated of cities in the State of California and the U.S. Statistically, 70% of residents over the age of 25 have earned a bachelor's degree or higher.
In addition, the heart of downtown Menlo Park is set in a vibrant, pedestrian-oriented atmosphere and offers a wonderful mix of boutique shops with excellent restaurants and cafes enabling all to sit and enjoy the warm climate and sunshine.
Areas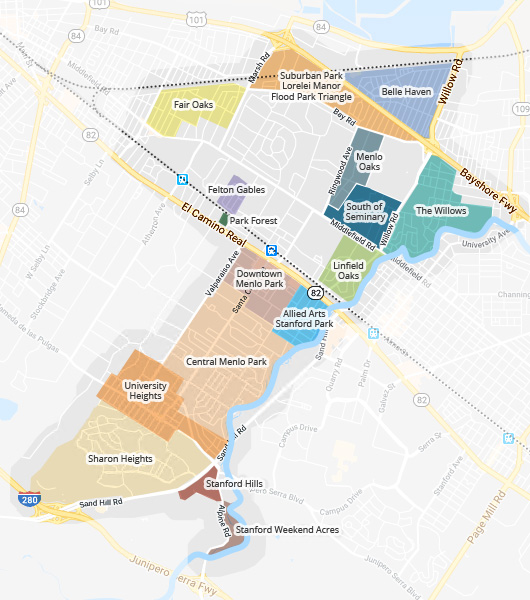 Allied Arts

/

Stanford Park

Belle Haven
Central Menlo Park
Downtown Menlo Park
Fair Oaks
Felton Gables
Linfield Oaks
Menlo Oaks
Park Forest
Sharon Heights

South of Seminary

/

Vintage Oaks

Stanford Hills
Stanford Weekend Acres

Suburban Park

/

Lorelei Manor

/

Flood Park Triangle

University Heights
The Willows