Los Altos
Originally an agricultural town with summer cottages and orchards, Los Altos is now an affluent commuter town located in the heart of Silicon Valley and just 40 miles south of San Francisco. The Southern Pacific Railroad Company career of Paul Shoup and his brother, Guy Shoup, an attorney, played a leading role in forming the Los Altos Business Association in September of 1947. This, in turn, contributed to both men becoming instrumental in the development of Los Altos and in defining precise Los Altos boundaries and the incorporation process of the City of Los Altos in 1952. Los Altos hills followed in its incorporation in 1956. In 2018, The City of Los Altos was rated the fifth wealthiest city in the United States. With its tree-lined streets and a small village atmosphere Los Altos is a most sought after residential community served with a quaint downtown Main Street and developed businesses, libraries, churches and schools.
The Los Altos School District has one of the highest average Academic Performance Index scores in California. All of the public schools are highly regarded, and many graduates of Los Altos area high schools continue their education at well-known universities. Los Altos is also served by seven highly regarded private and religious schools located within city limits.
The City of Los Altos is a community leader in recycling programs to benefit curbside residential collection efforts as well as having over 200 volunteers assisting in providing City government services to benefit its community each year.
Areas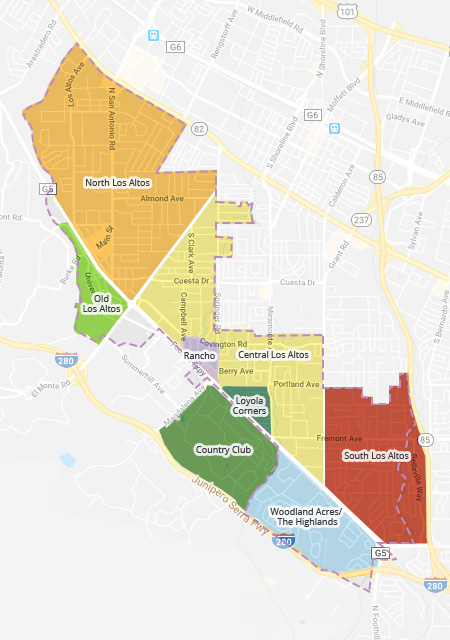 Central Los Altos
Country Club
Loyola Corners
North Los Altos
Old Los Altos
Rancho
South Los Altos

Woodland Acres

/

The Highlands